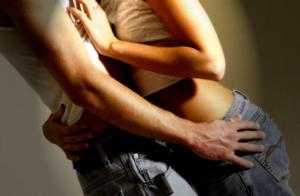 It's nothing like that spark of sex appeal when the relationships are new. You can't wait to get with your partner and can't get enough of each other. But, what happens when it's a long term relationship be it several months or many, many years?
You know the one where he or she has seen the real you without make up or with your dentures or partials out. Where you have endured the "natural human functions"… and you are still there. How about life kicks in when you are working a lot, traveling and sometimes you just want to sleep. Below you will find a few things that can help bring the X back into your sex life. Don't be a prude. Have an open mind and use what fits into your lifestyle and or beliefs.
Go to a Swingers Club. I know it sounds a bit raunchy and clandestine but, you can go and look and not participate in exchanging with others. # 1 rule is to have rules for you and your partner i.e. not sleeping with others. If you agree on sleeping with another partner, always use protection. Make sure you are ready and you can fulfill a fantasy. But most importantly, be opened minded and communicate. Communicate and make sure this fits for you both. My rule is to just watch and enjoy. It's like porn but you see everything and I mean everything live and in person. It's a safe environment and a no judgement zone.
If the Swingers Club is too much for you , go to a strip club together and watch the dancers. Get a lap dance and just let your hair down. Again this is a no judgement zone and everyone is in there to look, enjoy and get ready for the real thing .
Change up your routine. Act out some things you have always wanted to do. Be the dirty maid or the sexy cop coming to arrest the bad girl. Or be the dominatrix with some playful spanking, cuffs or whatever you and your partner like. Have a safe word if it's too much too soon. You want to tantalize not terrify one another. Take your time and communicate what feels good and what does not and only go as far as you want. Fetish's and being too kinky is not for everyone.
Go to the Toy store and load up or refresh what you have. Toys can be fun and intimidating at the same time. Make it a fun trip, start off slow get something that both partners can use together and that will stimulate you both. You can purchase in person or go online if you are uncomfortable in just walking into a store hand in hand. I like going into the store looking at the items with my partner and exploring if we think this will work for us or not. Make it fun and provocative. Remember this is for you two to enjoy and be comfortable.
Talk Sexy/Dirty to each other throughout the day… send some cute texts or call and tell your partner, what you want for later or what you have plan for them later. Tell them they are sexy and how you love their body. What still gets you hot… "I like when you touch…" "I like when you put your mouth…" This is a conversation for you and your partner anything goes… I don't suggest any crazy name calling etc. Know the limits of your partner and what will please them to hear.
Finally get some help. If the reasons are medical, pain, medications, dryness or psychological, don't be afraid to see a medical doctor, a relationship therapist or a close friend you can trust and confide in. Never be afraid to talk to a specialist. We will take our car in for a checkup or go to the dentist for our teeth. You can go to a specialist for that extra help as well.
Source: https://digitalromanceinc.com/sex-2/sex-life-bring-x-back/